Sidebar
MRTA Intelli-Grip® Edition
Brand

SKU:

WPG-98760

Condition:

New

Model:

98760

Industry:

Glass

Industry:

Insulated Metal Panels

Load Capacity:

1400

Load Capacity:

1200

Material Surface:

Smooth

Material Surface:

Textured

Lifter Motion:

Rotator/Tilter

Lifter Weight:

200
MRTA Intelli-Grip® Edition
SKU: WPG-98760
The Wood's Powr-Grip® MRTA Lifter Series Dual Vacuum System (DVS) Intelli-Grip® Quadra-Tilt Edition (MRTA8) offers manual 360° rotation. Capable of handling a variety of materials, the MRTA8 features six frame configurations, the MRTA8 and accomodates many different types of load shapes, sizes, and weights.
INTELLI-GRIP®
Designed for the next generation of Wood's Powr-Grip® Vacuum Lifters. Intelli-Grip® technology employs state-of-the-art technology, providing automatic monitoring of vacuum and power systems. Learn more by clicking on the drop down below.
Intelli-Grip® Technology
Maximize productivity through an automatic self-testing procedure
Reduce human error via continuous monitoring of battery levels
Simplify maintenenace and repairs through verbose critically relevant colour display
Help protect employees and property from harm by attempting to anticipate threats and providing operator alerts beforehand with clearly visible and audible warnings via multiple alarm levels identifying the severity of the hazards
Dual vacuum system (DVS) features two completely independent vacuum circuits that provides vacuum system redundancy, reducing the chance of harm to personell or equipment and limiting the possibility of catastrophic failure
Mobile app integration allows you to monitor your vacuum gauges from a distance
Compatible with remote control kits allowing you to attach/detach loads from a distance
Intelli-Grip® Mobile App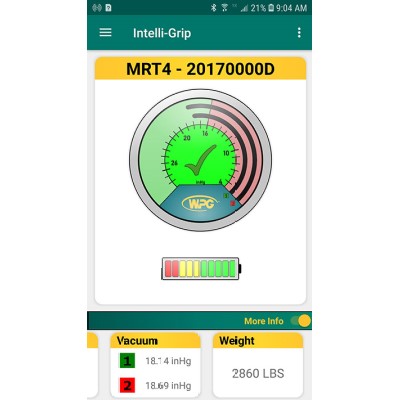 Mobile App Screenshot
Better access to information

While the lifter's vacuum gauges and LCD screen display vital data, the app puts the same information at your fingertips - often in greater detail.

Safer workplace operation

Viewing information from greater distances is perfect for operators performing multi-story installations. Supervisors can monitor multiple lifters on a job site.

Keep up with Intelli-Grip improvements*

Software updates for lifters can be installed via the app.
* Feature coming soon on iOS.

COMPATIBLE
Compatible with Intelli-Grip "DC3" Lifters made after May, 2019. DC3 Lifters made before May 2019 can be upgraded using the Intelli-Grip Software Update Device (v. 7.6 or LATER).
ROTATOR & TILTER
The MRTA Edition Quadra-Tilt (MRTA8) Vacuum Lifter features manual 360° rotation and 90° tilt.
POWER DELIVERY
12V Rechargeable Battery (120V AC)
The Wood's Powr-Grip® MRTA Lifter Series Quadra-Tilt Edition (MRTA811LDC3) offers manual 360° rotation, with locking at each 1/4 turn and 90° tilt between upright and flat. Delivering a full range of motion in the shop or at the construction site, the MRTA811LDC3 features automatic latching in the upright position, and tilt-assist to help facilitate heavy material manipulation.
Note: The video provided in the video tab is that of the MRTA611LDC2 model (discontinued) and is meant to serve as a general/limited overview of the MRTA Lifter Series Dual Vacuum Intelli-Grip® Quadra-Tilt Edition (MRTA8) in both form and function.
WEIGHT CAPACITY

TEXTURED MATERIALS
1200 lbs (545 kg)
The MRTA Dual Vacuum Intelli-Grip® Quadra-Tilt is a great machine if you are working with flat glass, prefabricated window units, and insulated metal panels. Movable pad mount extensions (93101 and 93101AM) available for the MRTA series make it a great option for prefabricated units that feature mullions, allowing the vacuum pads to reach an extended depth of up to 5.3125" [~ 135 mm]. Pad frame T-arm assemblies (97466) featuring either FS625 or FS10T pads make lifting insulated metal panels a breeze. If utilizing a crane is not an option (i.e. applications such as installations under eaves and commercial, indoor applications), the forklift adapter (95457) makes it easy to manipulate the MRTA8 by providing a secure mounting option for the forks of a forklift.

TEMPERED CALCULATOR
Calculate tempered glass weight here.
ADD-ONS / ACCESSORIES
Select an add-on or accessory category to see more products.

DOCUMENTATION
For additional information please consult the product document(s) below. Should you have any questions or require any assistance, please contact us.

EXTENDED DETAILS
Select the material and texture that you will be lifting.
Panels, Cladding, Textured (i.e. Pattern Glass, Stone)
FS10T Foam Ring Pads for Textured Loads

| 49672FT | Max. Capacity per Pad | Max. Contour Height | Max. Contour Depth | Min. Width between Contours |
| --- | --- | --- | --- | --- |
| | 150 lbs (68 kg) | 1-1/8" (29 mm) | 1/8" (3 mm) | 13" (330 mm) |
VPFS625
VPFS625
Max. Capacity per Pad
Max. Contour Height
Max. Contour Depth
Min. Width between Contours
150 lbs (68 kg)
2" (51 mm)
3/8" (10 mm)
6-1/2" (165 mm)
* VPFS625 Pads require Pad Frame T-Arm Assemblies for the MRT4 Original Vacuum Lifter.
COLD WEATHER WARNING
Wood's Powr-Grip products are guaranteed to be free of any defects in manufacturing or materials for 1 year from the date of purchase. Warranty Does Not Cover (1) Rubber portions that are cut / scratched during use. (2) Normal wear and tear. (3) Products that have been abused, misused or neglected. (4) Products that have been altered or modified. We notify customers of costs prior to repair if a vacuum lifter or other equipment problem is not covered under warranty. To Return a Product Under Warranty, contact us at 1 (800) 756 - 2945 for more information or visit https://www.wpg.com/service/warranty/