Sidebar
Casement Window Hardware Replacement Parts | DIY Window Repair
Your home's windows are incredibly important to you and your family's quality of life. They play a big part in helping regulate your home's air quality, keeping you safe, giving you the privacy you want, and more. When something goes wrong with your windows though, replacing them can be very expensive. The good news is, many common window problems can be solved with some simple new replacement window parts. Here we will discuss the main parts of a window that can fail and the window replacement parts you will need to fix them.
Casement Window Parts
In order to do some DIY window repair, you will first need to familiarize yourself with the main window parts. There are a dozen or more parts that make up your window but the main casement window parts you need to know are the window operators (which are also commonly called window cranks or window winders), window hinges, and window locks. These are the more mechanical pieces of window hardware that can break, but that can also be easily fixed with the right window replacement parts.
The illustration below shows a dual arm window operator for a casement window. There are also single arm operation systems as well, and left-hand and right-hand versions of each. Awning window parts are similar, the window just opens from the bottom instead of from the side.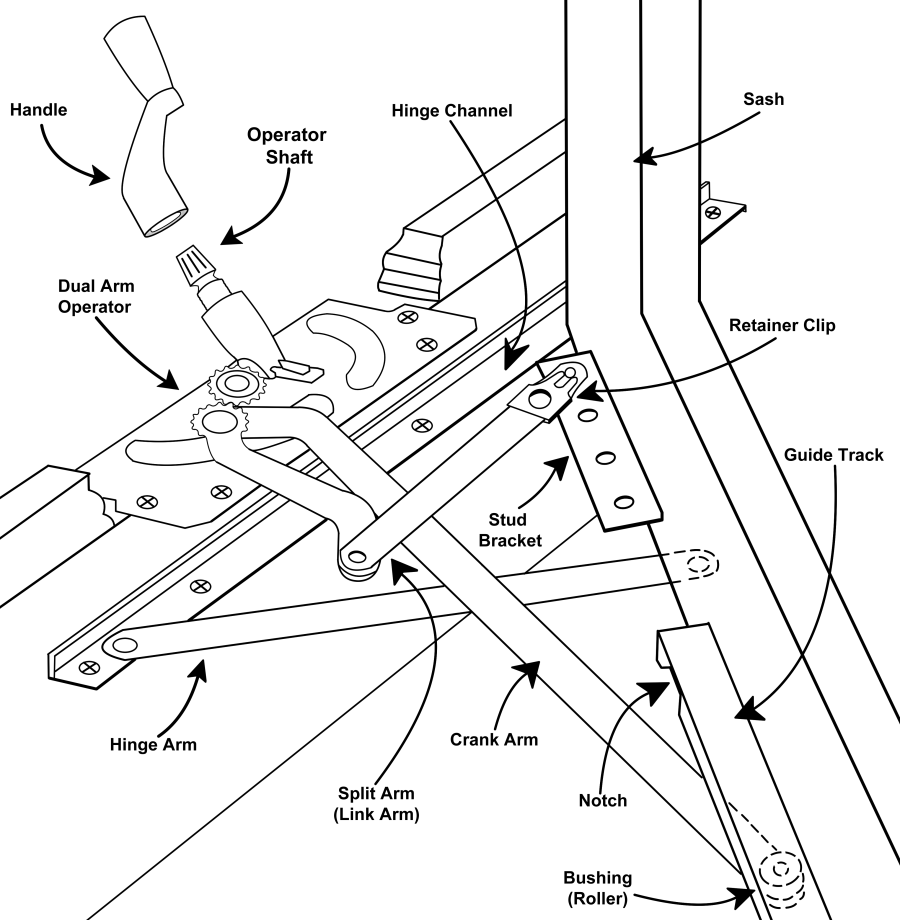 How to Shop for Replacement Casement Window Parts
Once you have familiarized yourself with the basic window parts and are ready to start your DIY window repair, it is time to find the parts you need. The two things you want to look for when shopping for replacement window parts is a reputable, experienced vendor and high-quality window parts. Ontario Glazing Supplies is a great place to start. Ontario Glazing Supplies combines a wealth of knowledge and experience with a wide selection of quality window parts. They are window experts who will help guide you in the right direction and provide the information and instruction you need to successfully complete your DIY window repair. 
They carry a wide selection of window parts from a variety of top brands. Depending on the scope of your project, your skill level, and your budget, an Ontario Glazing Supplies staff member will be able to recommend leading brands of window replacement hardware from companies like Truth Hardware(AmesburyTruth),Roto, or Acme window parts. Here is a look at each of the main window parts and how to shop for the specific window hardware for them. 
Window operators are also often referred to as window cranks or window winders. No matter what you call them, they are important because they are the thing that allows you to open your casement or awning window. When this window part is malfunctioning, or broken, it is an easy DIY window repair you can do without having to replace the whole window. 
As mentioned above, there are single arm and double arm window operators for casement windows. They can be either left hand or right hand, depending on which way the window opens, and they can be mounted to the face, rear, or in most cases, sill of your casement window. They come in a variety of lengths as well that you can find by measuring from the end of the operator to the center of the gear. For awning window operators, you can have lever-lock or pivot shoe operators. Like casement window operators, awning window operators can also be face mounted, rear mounted or sill mounted. 
When looking at replacement window winders, you can never go wrong with Truth window parts. Ontario Glazing Supplies also offers other high-quality brands as well such as Roto and Acme. 
If you are ready to undertake this DIY window repair project, check out our 7 simple steps to identify and purchase your replacement window operator.
The hinges are what hold your window up and keep it in place. Over time, these hinges can get loose or start sagging from the weight of holding up the open window. With a little know-how and the right parts, you can easily do this job yourself as well. 
Once again, you must first identify the style of hinges you have on your window. On a casement window, you are looking for either 2 bar hinges or 4 bar hinges. With awning window hinges, you will mostly find 4 bar hinges. When considering hinges, we recommend Truth Hardware in most cases. 
Locks are what keep your windows secured and you and your family safe. If you have casement window locks that are not working, you could be putting people at risk. Ontario Glazing Supplies offers a wide range of window locks no matter what style your window requires. This selection makes replacing your window locks easy. 
The first step in replacing your window locks is determining exactly what style of lock or latch you need. As with both the window operators and window hinges, there are left hand and right hand locks, or you can also find non-handed window locks. You can match your window replacement hardware to the lock you already have and can get certain locks in a variety of colors to match as well such as white, aluminum, or coppertone. 
Here too, Ontario Glazing Supplies offers the largest selection of AmesburyTruth window replacement hardware locks due to their quality and ease of installation and use, but there are Acme and Roto window parts that will get the job done as well. 
Conclusion
When something goes wrong with your casement window parts or awning window parts, you do not have to shell out lots of money to replace them. Your first step should be to contact the window replacements parts experts at Ontario Glazing Supplies for help. They will guide you to the correct parts and even share their knowledge of best practices for DIY window repair. They make it so easy, you can even upload a picture of your window parts and one of the experts at Ontario Glazing Supplies will help identify it for you and get you the window replacement parts you need.
Years ago, Ontario Glazing Supplies (OGS) started as a company in the service and repair industry and soon recognized a need for a reputable supplier and distributor of window hardware, window parts, and more. Since then, OGS has and continues to provide the finest window replacement parts for all your DIY window repair needs. OGS can even help you find a skilled and trustworthy contractor to help you with any installations or repairs you do not want to do yourself. Visit our website today to find out more about all they can offer.